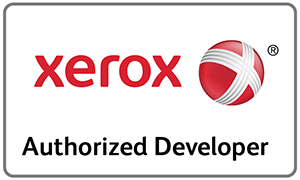 e-dev is a project of e-dox AG based in Leipzig, Germany. With e-dev we offer all Xerox partners the unique opportunity to enter the app business. Quite simple, uncomplicated and very fast. We combine the experience of 20+ years as a Xerox Partner with 50+ years experience of our software engineers.
We are the only Xerox Certified PAB (Personalized Application Builder) Partner in Germany and one out of 7 worldwide!
Any questions about our service? Please do not hesitate to ask…
Quote
Whether you need to hire an app developer to augment your current team, contract subject matter experts to help with a certain aspect of your project such as business analysis, requirements engineering, custom UX/UI design, code development, project management and/or quality assurance, OR looking for a complete end-to-end ConnectKey app development solution to be delivered, we can meet your needs.
e-dev designs, develops and delivers EIP or ConnectKey apps across all the major platforms, including i-Series, AltaLink and VersaLink. That includes apps that reside on the device or live in the cloud.
We have already implemented our own app ideas that solve problems in various industries. Another advantage: each of our apps can be adapted to your customers.
If you want further information about our apps? Cool, please find our recent developments in Xerox AppFinder at the Smart Centre.
Service Packages: RENT-A-DEV
No days go by without the need for an app…
We know as a Xerox Partner you want to fullfill these needs but there is always quarter end, service issues, back rebates, value added solutions, comp plans, recruitment […] and, of course, no time to think about starting your own app business. But you are lucky because you have found our webpage and here is our solution for you: RENT-A-DEV services, start your app business NOW!
RENT-A-DEV Starter
$280
per month
min. 1 App development per year
incl. Email support
floating developer
contract term: 12 Month
RENT-A-DEV S
$560
per month
approx. 2 Apps per year
incl. email support
floating developer
contract term: 12 Month
RENT-A-DEV M
$1,000
per month
approx. 4 Apps per year
incl. email support, phone support
floating developer
contract term: 12 Month
RENT-A-DEV L
$1,800
per month
approx. 8 Apps per year
incl. email support, phone support
dedicated developer
contract term: 12 Month
All plans include the following
No need to hire a developer
Highly skilled people from day one
No need to pay a big amount of money for one app
App ramp up in your demo room
Unlimited installs at your customers
Various numbers of app development included
Delivery through App Studio
Full-support no matter which timezone you are in
Friendly people with multiple language skills